scynce
[sci-ence]
noun
the branch of science dealing with
LED

luminaires and their application within horticulture.
The team at Scynce (sci-ence) has developed a new breed of indoor and greenhouse lighting that is challenging the status quo. Our focus is on better yields instead of only on power savings. With over two decades of automobile, marine, military, architectural and theatrical LED experience, we are excited to share with you the next generation of horticulture lighting solutions.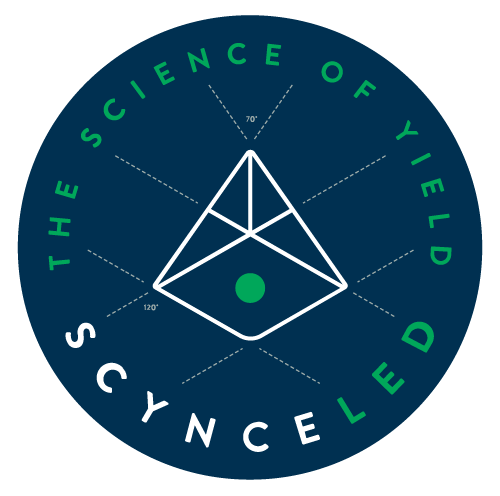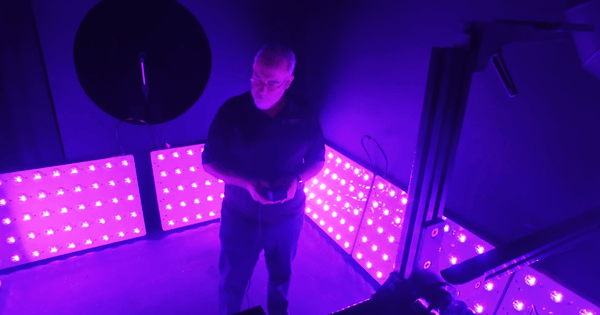 With the rapid & inevitable decriminalization of cannabis throughout North America, new grid-burdening cultivations are coming online every day. Regulators have already begun initiating and tightening efficiency standards, cementing the inevitable move to LED for commercial operations. This comes at a unique nexus where LED technology has come far enough along to directly compete with traditional "tried and true" lighting solutions…at least in terms of delivering proper light energy across the top surface of a grow canopy and producing similar results for flowering.
We believe the next evolution in LED grow lights will be the utilization of optical technologies. These optics will focus and extend light energy down through the entire growing area, promoting healthy growth from roots to canopy.
This breakthrough combined with tunable spectrums, energy savings and a reduction in heat abatement will finally bring about the forthcoming LED revolution in horticulture.
Scynce (sci-ence) has spent over 5 years under heavy R&D developing and securing patents around multiple optical (lens) solutions, smart power and wireless digital spectrum tunability. Officially launched to market in 2018 and led by a team who previously disrupted a related LED market segment, Scynce is uniquely positioned to become the commercial grow light leader over the next 5 years.
Scynce LED one of the most successful companies in America!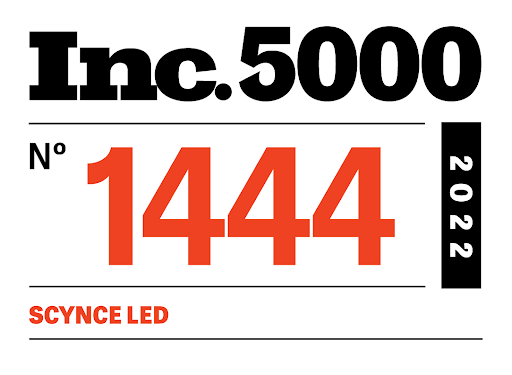 Becoming one of America's most successful companies means that the people at Scynce LED work tirelessly to bring the most innovative products to our customers, so this recognition means the world to us. It's an incredible honor to be sharing the same rarified air as the other amazing companies on the list. 
Purpose
Scynce is committed to serving and empowering those that have dedicated their careers to advancing the potential of light as a key tool of the trade for farming. We are the
Plant. Lighting. People.
We are Scyntists!
Path
By combining a scientific approach to photon delivery, a simplistic yet powerful user control interface and full power spectrum tuning, we create new ways to unlock the hidden potential of all plants.
Light is Magic!
Guiding light
Objectives
Be Agile
Be Relevant
Be Profitable
Agreements
Be impeccable with your word
Don't take anything personally
Never make assumptions
Always do your best
Mantra
Create Amazing Experiences
2008
Steve Adams (CTO at Scynce) founded Rigid Industries LED.
2010
Rigid disrupts the automotive market with optically focused LEDs.
2013
First iteration of horticulture lights with optics are used for growing algae.
2015
Rigid is sold to Truck Light, a division of Penske Automotive.
Horticulture R&D is moved to engineering firm Illum Technology.
2016
Botanist Darin Carpenter contributes to design and patents are filed on optics, spectrum, tuning and controls.
2017
Testing is conducted at 15 partner sites, the results are amazing!
Illum forms Scynce LED to focus specifically on horticulture.
2018
Patents are issued and Scynce LED launches into the market.
2019
Over 5,000 units have been sold and Scynce LED wins award for the "15 Most Promising AgTech Startups"
2020
Scynce launches a new line of lights with an industry first Full Power Spectrum Tuning alongside the new Linear 70, a new greenhouse optical delivery system
2021
A new web-based control architecture for the digital ecosystem of lights is debuted, allowing growers manipulate the quality and quantity of light from anywhere in the world.
2023
New ownership and management brings forth a new future for Scynce, including launch of a new generation of products!